So before I say anything, I'll just begin with stating this is another picture heavy post.
So here are another couple of pics from my shoot with
Bec
and Kat last week, but if you're friends with me on
FB
I'm sure you would've seen them all before.
Hem, okay, what else has been going on..Well I bought a new industrial bar for my ear, however it unfortunately doesn't fit :(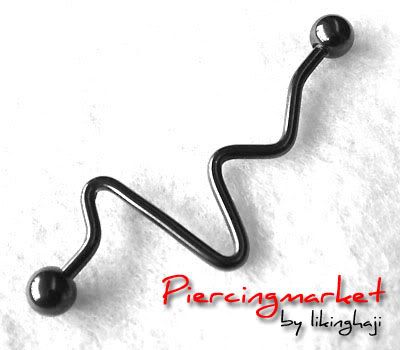 It is this one. So, if anyone reads this and wants to buy it off me, contact me by comment,
facefail
or at sydneysomething@hotmail.com. It's like 16 gauge or something, the standard industrial piercing and it's 37mm long.
Anyway, so in other news, I need a little help with something. So, I wanna buy a new item of clothing for my
photo shoot
coming up soon with Rodney
Shrimpton
, but I also need to conserve some money for a trip to
Melbourne
I'm taking in August to go check out the unis down there/ party it up with Michael! So, I was thinking of either buying this dress from Gallery Serpentine:
But in Black, and perhaps without the
pvc
medical cross thing.
Or:
This cute green military dress from Berserk.
These two items I thought might be nice for me to get over my fear of wearing anything slightly revealing. But as always, I'm really afraid about displaying much skin because I am quite
curvaceous
(Although I've lost several kilos over the past few days having being horribly sick :( ) And yeah, I'm just generally of the opinion that bigger girls shouldn't wear anything short and/or tight.
The other option is this shirt, which is really nice, and generally much more in my field of comfort, esteem-wise.
So, I just wanted some opinions regarding this, will those cute little dresses look awful? Good? Will I even wear them? Oh I don't know! Help!
Also, I've been listening to the new Ozzy Osbourne album over the past few days whilst I've been ill. I was never a massive fan of him or Black Sabbath, but I kind'a like it. Any other opinions on it?